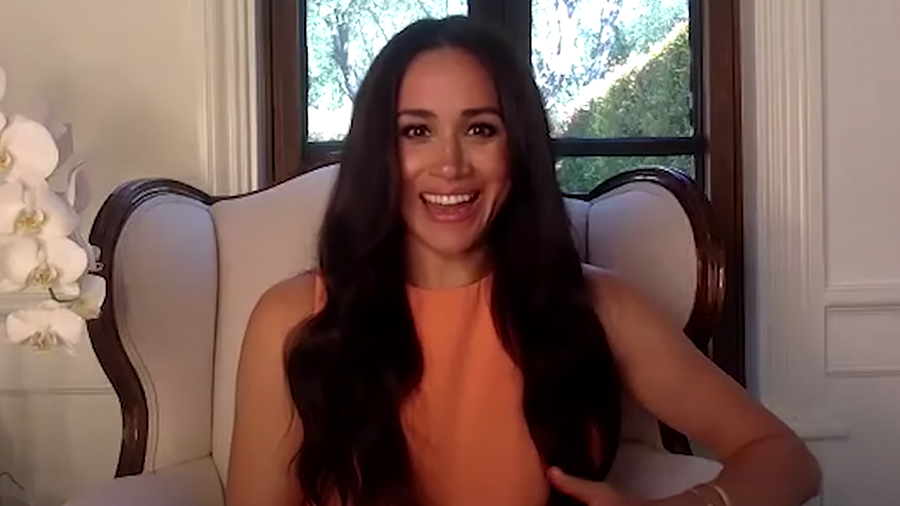 Meghan Markle and Prince Harry shocked the world when they announced they'd be stepping down from their official royal duties and moving to the United States. Just a few short months after their historic move, it seems the Duchess of Sussex has no regrets about coming back to her hometown of Los Angeles, California.
On Friday (August 14), Meghan took part in a virtual summit on representation and politics. She interviewed Emily Ramshaw, the CEO and cofounder of The 19th*, about their mission. For those who haven't heard of The 19th*, it's a "nonprofit, nonpartisan newsroom reporting at the intersection of gender, politics, and policy." The name was inspired by the 19th Amendment, which gave women the right to vote. The asterisk represents all the women who were not afforded the right to vote through the 19th Amendment.
During their discussion, Emily turned the interview around on Meghan a few times to ask her some questions, too. This resulted in Meghan speaking about her return to the States after living in the U.K. as part of the Royal Family. Meghan returned to the U.S. amid national unrest in the country due to the ongoing COVID-19 pandemic and the protests against police brutality in the wake of George Floyd's murder.
"I'm being honest, it was just devastating. It was so sad to see where our country was in that moment," Meghan said. "If there's any silver lining in that, I would say that in the weeks after the murder of George Floyd, in the peaceful protests that you were seeing, in the voices that were coming out, in the way that people were actually owning their role. It shifted from sadness to a feeling of absolute inspiration, because I can see that the tide is turning."
Freed from the constraints of her position within the Royal Family, Meghan said she's excited to be a part of the change that's happening across the U.S. right now. "From my standpoint, it's not new to see this undercurrent of racism and certainly unconscious bias, but I think to see the changes that are being made right now is…something I look forward to being a part of," she explained. "And being part of using my voice in a way that I haven't been able to of late."
"So, yeah, it's good to be home," she added with a knowing smile.