After two decades in the desert, the Coachella Valley Music and Arts Festival and Stagecoach will be forced to skip 2020, as health officials in Riverside County, California have asked organizers to move the weekend gatherings from October of 2020, into 2021.
Goldenvoice, the company behind both Coachella and Stagecoach, released a statement to Twitter on Thursday explaining their decision. "Under the continuing health guidance of the County of Riverside, Coachella and Stagecoach 2020 will not take place this October as previously rescheduled," the statement begins.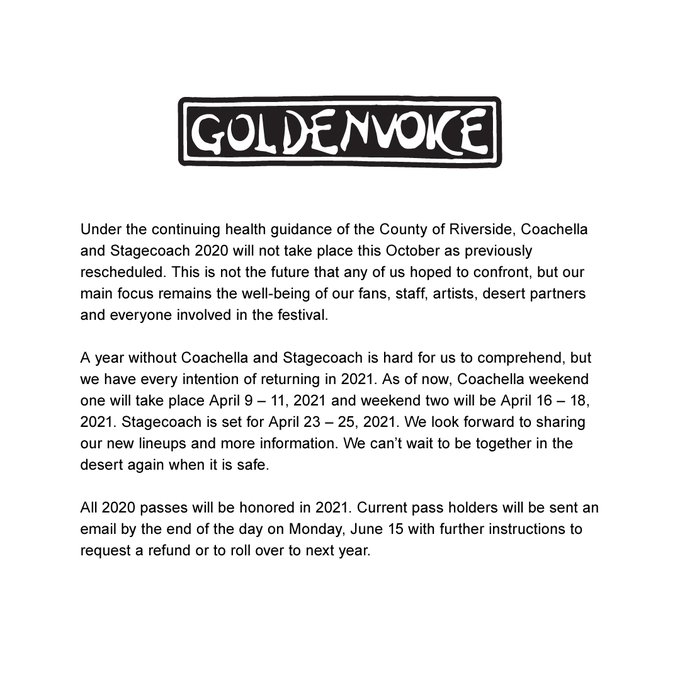 It continues, "A year without Coachella and Stagecoach is hard for us to comprehend, but we have every intention of returning in 2021." The organizers go on to say that 2020 passes will be honored at the following year's festivities.
With concern over a resurgence of COVID-19 and uncertainty surrounding a potential vaccine, Public Health Officer Dr. Cameron Kaiser signed an order cancelling the 2020 edition of the festivals earlier this week, according to Desert Sun. They were previously rescheduled from April to October.
"I am concerned as indications grow that COVID-19 could worsen in the fall," Kaiser shared in a statement.
Governor Gavin Newsom has previously stated that large-scale events like these, which typically draw 125,000 visitors, won't be allowed until Stage 4 of the pandemic recovery. It's a stage that requires available treatment for the virus.
"Given the projected circumstances and potential, I would not be comfortable moving forward," added Kaiser. "These decisions are not taken lightly with the knowledge that many people will be impacted. My first priority is the health of the community."
Goldenvoice has been in close communication with health officials about the future for the festivals. Earlier this week, reports emerged that they might try to stage these events in April of 2021 with reduced capacity, or wait until October of 2021 to recreate the full experience.
The 2020 lineup for Coachella included headliners Frank Ocean, Travis Scott, and the newly reunited Rage Against The Machine.