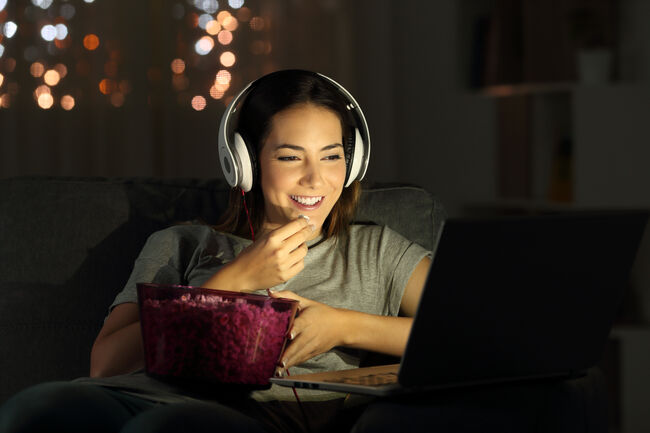 CREDIT // SOURCE -
Since most of us are stuck at home and binge-watching our favorite TV shows on repeat these days, we might as well get paid for it. That's where CableTV.com comes in handy. They're looking to hire somebody to watch a popular TV show and share their experience on social media. If hired, you could make up to $2,000 for doing exactly what you've been doing while following social distancing. Here's everything you need to know.
In order to apply for this sweet gig, you must be at least 18 years old, eligible to work in the U.S., and an active social media user. CableTV.com is hoping to find fans of mega-popular shows, such as Friends and Rick and Morty, and share their opinions on the show through social media. Each show has a different hourly rate, as well as varying run times and episode counts; so, some shows will earn you more money an hour than others. For example, here's what you'd make by watching these popular shows:
The X-Files: $12.22/hr.
The Walking Dead:$20.24/hr.
Friends:$24.00/hr.
The Office: $27.02/hr.
Seinfeld: $28.98/hr.
Star Trek:The Original Series: $30.38/hr.
Game of Thrones: $32.58/hr.
The L Word (original): $34.28/hr.
The Fresh Prince of Bel-Air: $35.28/hr.
Trailer Park Boys: $38.10/hr.
Breaking Bad: $44.76/hr.
Community: $49.60/hr.
The Marvelous Mrs. Maisel: $104.26/hr.
Rick and Morty:$151.52/hr.
In addition to the $2,000 paycheck for your binge-watching efforts, CableTV.com will also provide the five lucky homebodies chosen for this project with lovely welcome packages containing items that will transform your working conditions into an extra cozy space. The candidates will receive a one-year subscription to their preferred streaming service, a comfy blanket, $100 Grubhub gift card, a copy of the book Remote: Office Not Required by Jason Fried and David Heinemeier and a variety of candy, treats and popcorn. To be considered for this job, all you have to do is fill out the application on CableTV.com and tell them in approximately 200 words why you're the right binge-watcher for the job.