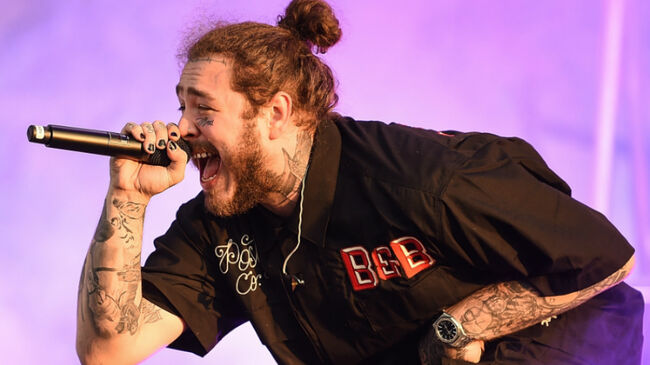 CREDIT // SOURCE -
Peyton Blakemore // Z100
Post Malone is being sued over his 2019 hit single "Circles."
Musician and songwriter Tyler Armes is accusing Post, whose real name is Austin Post, and the rapper's producer Frank Dukes of a "bad faith refusal to accord Tyler Armes the credit and share of the profits he is due as a co-writer of the song 'Circles.'"
In his lawsuit, Tyler claims Post "freely admitted that [Tyler] co-wrote 'Circles,'" but despite his repeated efforts to "amicably resolve this matter, Post and [Frank] have steadfastly refused to give [him] the credit and share of the profits he is due."
"It is very disappointing that Post Malone and his team did not provide Tyler Armes with co-writing credit," Tyler's attorney Allison Hart said in a statement to The Hollywood Reporter. "A number of witnesses will corroborate that Tyler co-wrote Circles. We expect to be fully vindicated when this matter is decided by the Court."
Back in August, Tyler celebrated the release of "Circles" on Instagram, writing, "Honored to have worked on this incredible song 'Circles' with @postmalone and @frankdukes . A year ago we ended up in an all night studio session in Toronto. We Jammed on different instruments for a few hours and built the beat. Post laid down the rough vocals a few hours after, we knew immediately it was a special song and a whole new vibe! Crazy energy in the room! Congratulations to the whole team @drelondon @louisbellmusic @billywalsh @myjeanious for knocking it out of the park. "Hollywood's Bleeding" available sept 6!"
Despite his claim to have "worked on" the track, he was not among the five listed writers — Louis Russell, Bell Adam King, Feeney Kaan Gunesberk, Austin Richard Post, and William Thomas Walsh — on the song.
While Post has yet to publicly respond to Tyler's claims, on Tuesday (April 7), he sued the musician, claiming Tyler is not listed as a co-writer on "Circles" because he did not contribute anything to the song.
"It is an age-old story in the music business that when a song earns the type of runaway success that 'Circles' has garnered, an individual will come out of the woodwork, falsely claim to take credit for the song, and demand unwarranted and unearned windfall profits from the song," Post's attorney Christine Lepera stated in their recently filed complaint.
According to THR, Post is also asking for a declaration. He wants the court to declare that Tyler didn't author any portion of "Circles," "doesn't have a valid copyright in the work and isn't entitled to any money from the exploitation of the song."