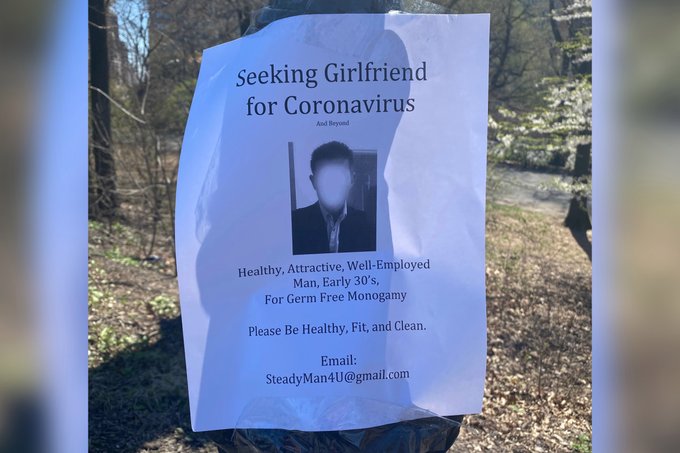 CREDIT // SOURCE - NY POST
A 30-year-old New York man, Brad, is taking an extra step towards improving his love life in the midst of the coronavirus outbreak.
Instead of hopping on the dating apps and hosting virtual dates with potential love interests, Brad has taken to the streets with a unique flyer that lines running paths and public areas in New York City, including Central Park.
The flyer reads, "Seeking Girlfriend for Coronavirus and Beyond." He describes himself as a "healthy, attractive, well-employed man" looking for "germ free monogamy."
The flyer goes on to say that his future love interest should be "healthy, fit, and clean." In a conversation with The New York Post, Brad explained the method behind his flyer posting around the city.
"I was single when the lockdown began and have been wondering how and when dating would be possible again," he explains. "Social distancing has made meeting new people difficult, and now we are all in masks and that is a very unapproachable situation."
"This is no time for casual dating or hookups, so I am seeking a long-term and exclusive relationship."
Because of social distancing measures in place, Brad is opting for "six-foot-apart dates" which will hopefully lead to a "genuine offer of stability in this strange time."
Brad went on to explain that he thought lining running paths with his flyers was a "much more targeted and direct" way of finding a match than other methods. Hopefully, the lady he attracts will be fit and out for a run when she stumbles across his postings, leading to a relationship with someone who is more like-minded.